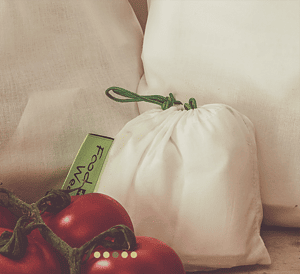 There are more and more people practicing Zero Waste, and when it comes to shopping in bulk, they are very quickly confronted with the question of which container to use. Should you bring your heavy, fragile jars, plastic Tupperware, or take the disposable bags offered by the  stores? This dilemma was the starting point for Laurence Schwab and Carole Carnazzi's idea to offer cloth bags at bulk stores.
But not just any type of bag. The bags offered by Food Wear are organic cotton certified by the GOTS label which guarantees an organic quality throughout the whole fabric production line, from the production of cotton to the weaving of the bag. And there was certainly no question of offering bags made in China. The bags come from a 100% Swiss made craft production, as even the fabric is woven in Switzerland. These ecological criteria were basic conditions for both women entrepreneurs. "Even if it wasn't easy, we got there in the end. Everything is possible, you just have to approach people and find a solution, "says Laurence.
With a scientific education in chemistry the two entrepreneurs have also taken into account the question of hygiene. A whole series of tests have been carried out to make them safe to contain food products and to avoid health risks. The bags were also designed to be both lightweight, so as not to penalize the consumer at weighing, and very durable to last a long time, even when washing them every week.
At the moment, Food Wear is not yet making a profit, because of the many costs involved in launching this activity. But their success is growing and the bags are selling like hot cakes, whether on their website or in the outlets in French-speaking Switzerland, but also in the German-speaking part. "We didn't need to advertise – networking through facebook or zero waste blogs was enough to get the word out."
Ultimately, the objective is to grow sales in order to be able to offer at lower prices. We also have other projects, such as the Bee smart, an organic cotton fabric wrapped in pharmaceutical-grade bees wax which can be used to pack a sandwich or store leftovers in the fridge. This breathable, washable and waterproof product replaces plastic wrap and cling film, without producing waste, because they are washable and reusable. They can be ordered from food-wear.ch.
Interview by David Vieille
Ambassador ZeroWaste Switzerland