Born from the desire to contribute something positive against today's environmental problems, in May 2017 bare Ware was created. The first shop in Winterthur to offer a fully unpacked solution to shopping for customers. The bare Ware team is committed to offering shoppers a conscious way of consuming. Many of the products are sourced from local projects that are based on sustainability. The aim is to offer a shopping experience that is personal, providing customers with fresh, high quality products – all with a clear conscience.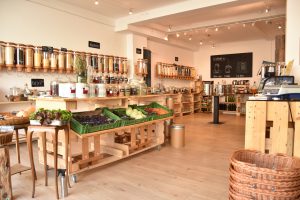 The store offers package-free, organically produced foods, organic cleaning products, natural cosmetics and zero-waste gadgets. The growing bare Ware community are active participants, bringing their own containers or borrowing them from the stores depot system. Customers simply take what they need and this results in much less food waste.
The founders:
Iris Huber has been involved for many years in the sustainable production of food and its cultivation and would now like to connect this with offering it to the customer. Iris believes in conscious consumption and that being knowledgable about the origin of food and everyday goods is an important prerequisite for building a sustainable society. Working in various organisations in the field of environment and sustainability, as well as studying environmental science at the ETH has inspired her to set up her own project. She believes bare Ware is the answer for putting her knowledge and passion to its best use. Together with Adriana, she is looking forward to building a business that combines sustainable projects with conscious consumption.
Adriana Puente has always been committed to a world in which people have a respectful relationship with nature. Her passion has taken her around the world. She holds a masters degree in Conservation Biology from England and gained valuable experience in community-based conservation projects in countries such as Costa Rica and Tanzania. Adriana understands the importance of anchoring nature conservation projects within the community for their optimal success. Back in 2010, she opened a business in Mexico with a focus on sustainability, successfully leading it until her move to Switzerland. Now she has a great desire to build a new sustainable business and to grow the "bare community" in Winterthur together with Iris!