In February 2018, the Queen of England declared war on plastic. By banning plastic straws and bottles from staff kitchens and public cafes at royal estates around the UK, she hopes to slow down the shocking effects that human demand for plastic is having on our environment. With scientists predicting that plastic in the ocean will outweigh fish by 2050, it's not surprising that the Queen has joined the "green" side. She's not the only one taking steps to reverse the damage though, as the popularity of Zero Waste Basel's first workshop of 2018 showed.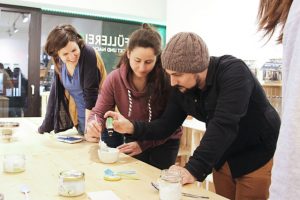 The wonderful pow(d)er of baking soda
Around twenty people came together last week to learn about the magic of baking soda (also known as sodium bicarbonate) and how it can help to not only reduce the amount of plastic we use, but to also minimize the load of toxic chemicals we unwittingly put into our bodies on a daily basis which then get flushed out the drains, ending up in the sea. Baking soda has been helping our cakes to rise, de-clogging our drains, and even helping with heartburn for over a hundred years. By mixing this magic powder with a handful of other natural ingredients, we were able to make our very own toothpaste, deodorant and oven cleaner to take home, reducing the need for single-use products almost always packaged in plastic. Not only does this help protect our nature, it makes our cupboards at home look a lot less cluttered and reduces our spending!
For many, the idea of putting baking soda onto their toothbrush was a little questionable, but how much do we really know about what triclosan, a common ingredient in commercial toothpastes, does to our health? Does the thought of putting this pesticide, as it is classified by the United States Environmental Protection Agency, into our mouths twice or three times a day sound appealing? Probably not. And do we really want to risk putting chemicals directly onto our skin which have been shown to disrupt our hormonal balances and cause cancer of the breast and prostate? If your answer is no, try out some homemade recipes to find natural products that suit you best.
Overcoming hesitations
Participants at the workshop held at the Abfüllerei store (where, by the way, you can buy as much package-free baking soda as you need) learned about its abilities as a stain-remover, its anti-bacterial properties and its power to fight off bad breath. Many were surprised by how easy it was to make their own products using mostly ingredients that they already had at home. All participants left fully motivated to continue at home and see what other products they could make for themselves. For some, this workshop was especially what they needed to overcome the initial hesitations and actually start trying and using these homemade products. "The workshop was really hands-on and now I can take the products home knowing where to get the ingredients and start experimenting myself.'' You can test it out yourself by trying out some of the recipes of Zero Waste Basel (on their Facebook page), or by browsing our Zero Waste guides online (soon also available in English).
Are you joining in?
Take part in the discussion, get answers to your questions and join us (and the Queen) in the Zero Waste movement by visiting the Facebook pages of Zero Waste Basel and Zero Waste Switzerland, and taking part in upcoming events. We'd love to see you there.
Text: Samina Ahmed, from Zero Waste Basel
Photo: Catarina Sinde, from Zero Waste Basel