Because of the situation linked to the coronavirus, some products are sold out in some shops. With a bit of flour, water, heat, air and time, you can make your own sourdough bread. The most important element is that the whole grain flour is freshly milled. The easiest way is to use rye flour. Here is what you need:
Ingredients Sourdough
150 g rye flour
150 ml water
Ingredients sourdough bread
600 g wheat flour
400 ml water
100 g sourdough
1 tsp salt
The sourdough
Prepare sourdough
You need a large jar (approx. 500 ml) to prepare the sourdough. The sourdough can be kept in the fridge – with proper care, it can last for years!
There are 4 steps to making sourdough – here is how it works:
Day 1
Mix 50 g whole grain rye flour and 50 ml water (at approx. 40°C) in the jar by hand. Cover the jar, but don't close it tightly, and let it sit for 24 hours at room temperature (ideally 25-30°C).
Day 2
Again, add 50 g rye flour and 50 ml of water and mix everything with a wooden spoon this time. Cover and leave to sit in a warm place for another 24 hours.
Day 3
The mass should have expanded and be full of bubbles. The smell may be pleasantly acidic, cheesy  – this is all quite normal, as long as there is no mould. Add 50 g flour and 50 ml of water a third time, mix and let sit for another 24 hours.
Day 4
The sourdough is ready; it has to be stored in the fridge from now on. Of course you can also bake your first bread with it. This is how it goes:
The bread
1. The pre-dough
Mix 200 g whole grain flour with 200 ml water (lukewarm) and 100 g sourdough with a wooden spoon;  mix everything to a homogeneous, mushy mass. Cover the pre-dough at room temperature and let it rest for 1-2 hours so that the air can circulate.
2. The main dough
Add another 400 g of whole grain flour and 200 ml of water to the pre-dough and a teaspoon of salt. Using a wooden ladle, mix everything again to a homogeneous, but this time much tougher mass. Do not stir too long and do not knead.
Let the dough rest, covered, in a cool place (max. 18°C). The time depends on the temperature. In the fridge (approx. 5°C), it can sit for a good 12 hours, if it is warmer, 8 hours will be enough.
3. Fermentation and baking
Now the dough must rest in a warm place, ideally around 25°C,  for another 6-8 hours. Here again, the warmer, the faster the fermentation.
After fermentation, the dough is ready for baking. It is best to tilt the dough onto a floured surface and then fold it three or four times before forming it into a ball. The dough should be soft and smooth and not too sticky.
Then it goes into the oven, for about 70-80 minutes at 220°C. Depending on the dough and oven, the baking time can vary greatly. Tip: bake the dough in a (preheated) cast iron mould: put the lid on for 45 minutes, then bake for another 25 minutes without the lid.
And now: enjoy!
Why sourdough? Here are 3 advantages:
1. The taste
When the sourdough is prepared, a multitude of aromas are created. This gives the bread its typical taste without any artificial additives.
2. Longer shelf life
The acidity in the added sourdough reduces the development of mould. If stored correctly, the bread can then keep for several weeks.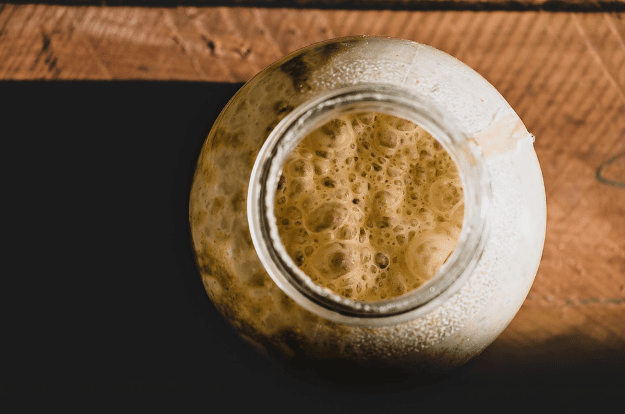 3. Getting rid of additives
Because the sourdough has so many positive properties, chemical additives are not required during baking.