Shopping in supermarket in Zero Waste mode
Shopping in supermarket in Zero Waste mode
or how to shop and reduce waste
This guide is voluntarily openly available to help people effectively reduce waste.
Do you find it useful? You can support us by becoming a member or by making a donation.
In Switzerland, a large part of the population regularly goes to supermarket to buy food. For many it is the most convenient nearest or simply the best known point of sale. The offer is often wide, the actions attractive and the advertising is everywhere.
However a lot of packaging are used un supermarket : paper, aluminium and especially plastic, even in cases where this is not strictly necessary. This guide is a summary of practical advice based on the experience of shopping in supermarkets to reduce waste production.
Think of the 5 R's: Reject, Reduce, Reuse, Recycle and finally compost (Rot) to guide your purchases. Reject the plastic bag or the free packaged sample. By preparing a list in advance you also minimize the chances of spontaneous and unnecessary purchases.
Here are the alternatives to the supermarket that you can find near you:
The market on Saturdays or during the week
Bakeries in the area will have bread, desserts and croissants in bulk and they will gladly give you everything in your container or bread bag!
The local organic store for certain products
The surrounding farms often offer self-picking in summer or direct sales where you can buy fruit, vegetables, eggs, milk, etc…
Butchers often offer sausages, dried meat, sometimes even unpackaged ravioli which cannot be found in supermarkets.
Turkish/Indian/Indian/Italian/Tunisian etc… grocery stores in the area, which often offer bulk products
Step by step….
Before leaving to the supermarket, it is useful to bring your own equipment:
Your shopping list (electronic version, for example Wunderlist or Bring!) or on reused old paper
Recyclable key containers: reusable bags (to buy in your bulk store or on food-wear.ch), egg cartons, containers for liquid or wet/sensitive products, large bags to put everything in
Some glass bottles (some supermarkets offer freshly squeezed orange juice on site).
Always take a few more containers than you expected; there are often nice surprises!
Here we go!
Arrived at supermarket, let's go :
A large proportion of fruit and vegetables are available in bulk in supermarkets in Switzerland as they are sold by weight. Go ahead! Take your bags and put your purchases in after weighing them (to avoid paying the weight of the bag). Onions, garlic, potatoes, carrots, zucchini, apples, pears, peaches, etc.
Mushrooms and all kinds of nuts are also avaulable in bulk in this section. You can weigh them with the same plastic bag each time to avoid paying the weight of the fabric bag, or find a very lightweight fabric bag.
Some supermarkets now offer aromatic plants wrapped in paper.
In the bread assortment some products are pre-packaged, but other rolls, takeaway pizzas and pastries are sold in bulk by piece. Just use a transparent bag and show or mention at the checkout what you took from your bag.
In some large supermarkets Swiss organic eggs are sold in bulk and it is perfectly acceptable to take the same box each time. Indicate at the checkout the number of eggs taken.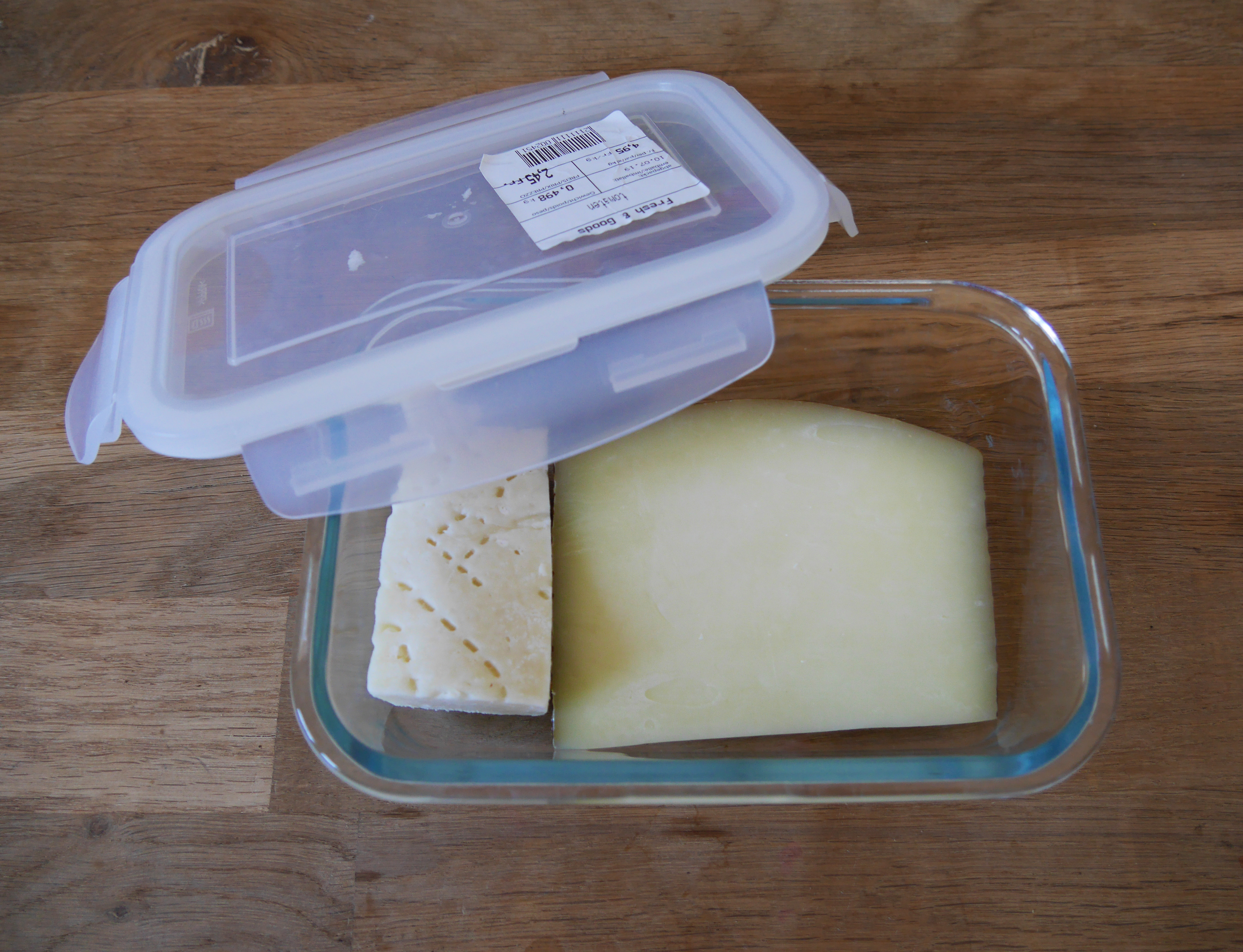 Except on Saturdays there is rarely a line at the counter. You have a wide choice of Swiss, Italian and French cheeses of all kinds. Depending on the season, different types of raclette and fondue mix are also available. Simply present your container when saying what you want – most sales staff find it great. This avoids having to pack each cheese separately (the label remains).
Warning: some containers may be refused, as glass containers (risk of breakage) or soiled containers (for hygienic reasons).
There is a wide choice of meat, fish and shellfish at the counter. In addition to being able to buy in bulk and from the region, it is possible to choose its piece and the desired quantity, as well as the cut (filleted, piece, chopped).
In other supermarket shelves, it becomes very difficult to find unpackaged products.
Here are some tips below for dairy products, beverages and oils, dry products… to reduce resource waste and incinerated waste (but this does not mean it is "Zero Waste[1]").
[1] Disclaimer: this is not representative of a Zero Waste lifestyle and is not supported by the ZeroWaste Switzerland association. This is an attempt to advise the people who shop at the supermarket on a regular basis and start the Zero Waste lifestyle.
Dairy products
Choose products in glass containers (such as milk or yogurt) and also products packaged in recyclable containers (for cream, for example).
Beverages
Choose glass bottles (recyclable for ever and potentially reusable in the kitchen) rather than Tetra Pack or plastic bottles.
Choose large containers and paper packaging (recyclable) rather than plastic packaging.
Choose glass bottles rather than plastic bottles (e.g. oils, vinegar, spice containers).
Canned food : pickles, olives, canned chickpeas, etc…
Choose glass jars (reusable for your jams) for olives for example and use metal cans (recyclable) rather than plastic for chickpeas.
For example, for coconut milk, you can choose canned (recyclable) instead of Tetra Pack packaging.
Choose paper and aluminum which are recyclable (for example: chocolate).
Use paper packaging for sugar, flour and other dry goods. Use largest container possible.
You can also mention to the store owner details that bother you (politely and with a possible solution proposal); if enough people react, a change in favour of the clients' wishes will eventually happen. Voting with money still has power.
Enjoy your shopping trip!