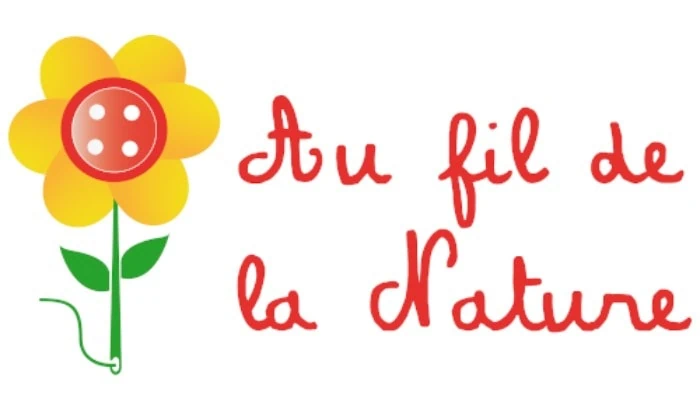 Au fil de la Nature – ecological textil fabrics and haberdashery
Gaëlle Morend Jaquet, mom of Améline (2010) and Loup (2012) and founder of the ecological haberdashery Au fil de la Nature.
Contrary to what one might think, she is not a former seamstress but literature historian, which may seem incongruous! It is actually when her children were born that the project of opening her own bio haberdashery shop came up. As many women about to give birth, she wanted to give the best to her children to be. She wanted to find and work on noble and labeled materials (GOTS, Bioré, Oekotex-100), with no toxic chemicals products involved.
She also had the ambition to reduce the ecological footprint of her beloved children by making and using washable diapers. She also very soon was confronted to the difficulty to find such items in Switzerland, which needed to be shipped from abroad, most of the time.
An unusual path to open a store dedicated to sewingShe wished to offer to her customers scarce and qualitative products and thus chose fabrics and materials based on their needs. Listening, giving her time to each client are principles as important as organic and ecological factors: Human is part of nature. This politic has actually worked out pretty well as many customers describe the shop as «a true Ali Baba's cave ». In this cave, we can find a large choice of colored textile fabrics, dedicated to washable disposals such as washable diapers, make up pads, sanitary napkin, reusable pouches, and so on…
In her ecological attempt, the « zero waste » still takes its place! The packaging used to send orders are either recycled clothing fabrics or fabrics that may be reused or recycled. Scraps of fabric are also often given as gifts with orders. Finally, the shop avoids most of the time to send paper invoices. In all her activities, she tries to reduce her waste.
As you may have noticed, being in the norm is not my thing! And I fully support actors of change!

Gaëlle Morend
Website: aufildelanature.ch