Zero Waste Talks and Conferences
Would you like to discover (or introduce) the Zero Waste approach?
We organise interactive public and private talks & conferences for people and organisations who want to learn all about Zero Waste and actively engage in sustainability.
What's Zero Waste?
In Switzerland, around 3 billion Swiss francs are spent every year on waste disposal, at a rate of 701 kg produced per person per year (FOEN 2018). A large proportion of plastics are not recyclable.
The Zero Waste approach promotes a reduction of waste at source and a reduction in the waste of resources by rethinking the way we consume: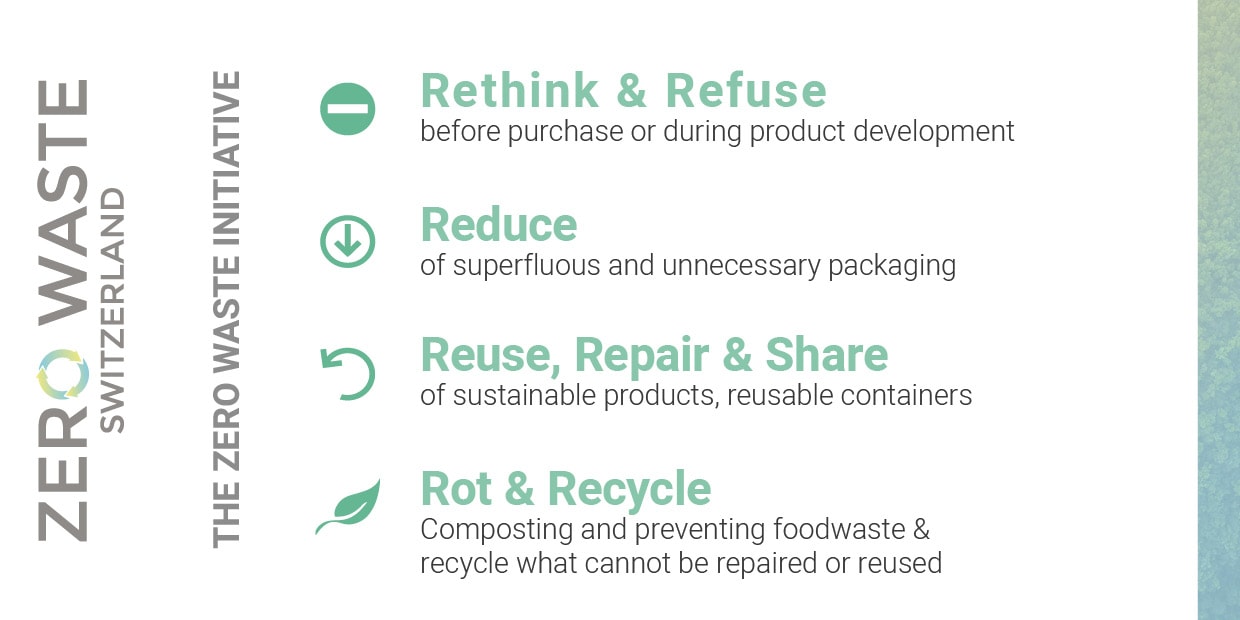 Details for the organization of a conference
Style : conference, questions at the end
Duration: 1h
Content and procedure: A speaker proposes a conference on Zero Waste. After a presentation of his or her situation, the speaker presents the problems related to waste in Switzerland and the concrete solutions that exist, with examples of people living in Zero Waste mode.
Location: room that can hold at least 30 people with a beamer.
Price: ask for a quote
Attending these conferences will allow you to discover the benefits of the Zero Waste lifestyle and concrete solutions to adopt on a daily basis.
For companies, additional benefits are possible: through a Zero Waste approach, you will be able to promote your fight against climate change and reduce your costs or even increase your profits.
For further information or to obtain an offer, don't hesitate to contact us.
Facts and Figures
Fact 1: In Switzerland, 33% of food (2.6 million tonnes of food waste according to the FOEN in 2019) is wasted, two-thirds of which is avoidable.
Fact 2: Switzerland spends CHF 3 billion per year on waste disposal (FOEN 2019).
Fact 3: Plastic recycling is neither ecologically nor economically attractive:
"According to the "KuRVe" study, carried out by Carbotech AG and the UMTEC University Institute on behalf of eight cantons, various associations and the Federal Office for the Environment, the cost-effectiveness of collecting plastics from households is poor compared to the collection of PET beverage bottles. Thus, in view of the high costs, the ecological benefit is low". (FOEN 2019)
Fact 4: 125kg of plastics are consumed per year/person in Switzerland (FOEN 2019). Only 25% is recycled.