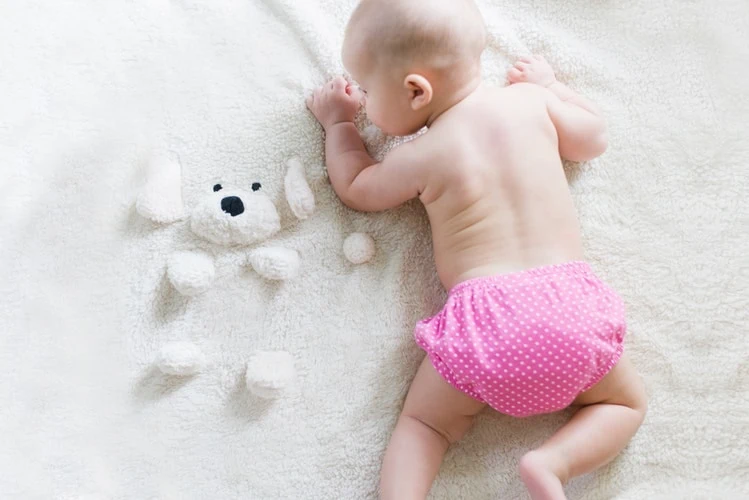 Baby Zero Waste – Test out the new generation of cloth diapers!
More and more parents and families are choosing cloth diapers to take care of baby Zero Waste ; it has become an essential hygiene accessory. The latest generation of cloth diapers has the advantage of being efficient and durable. In the long term, the cost of using cloth diapers is lower than the cost of using disposable ones. How do these diapers stand out against industrial disposable diapers?
1. Disponible diapers, what do they entail ?
When we talk about disposable diapers, we think about the useful advantage of not having to worry about washing them. They just have to be folded up and thrown away after use. Regarding their composition, these diapers are made up of between 75% and 95% plastic and petrochemical materials, of which « (…) an impermeable external plastic material (polypropylene or polyethylene), a gel absorbant (sodium polyacrylate) and an outer paper leaf » .
The use of disposable diapers hides another reality, that of waste production (about 5000 disposable diapers are discarded during the first two years of life). Until a child gets potty trained, it'll have gone through on average « (…) a ton of dirtied disposable diapers, or 35 m3 in waste (…) » of which « (…) 25 kg of polypropylene plastic, the equivalent of 67 kg of petrol in energy (about a cup of petrol per diaper), and 5 trees ». The consequences on the environment are important to note: the disposable diapers will take 200 to 500 years in nature to decompose, raw materials will be used in excess, and partially wasted, to create these diapers, and upon incineration of the diapers toxic waste will be released into the atmosphere.
On an economic standpoint, it costs between 2'000 and 2'500 CHF to provide disposable diapers for a child until it gets potty trained. Disposable diapers also represent a cost in waste management, cost that falls back onto the community.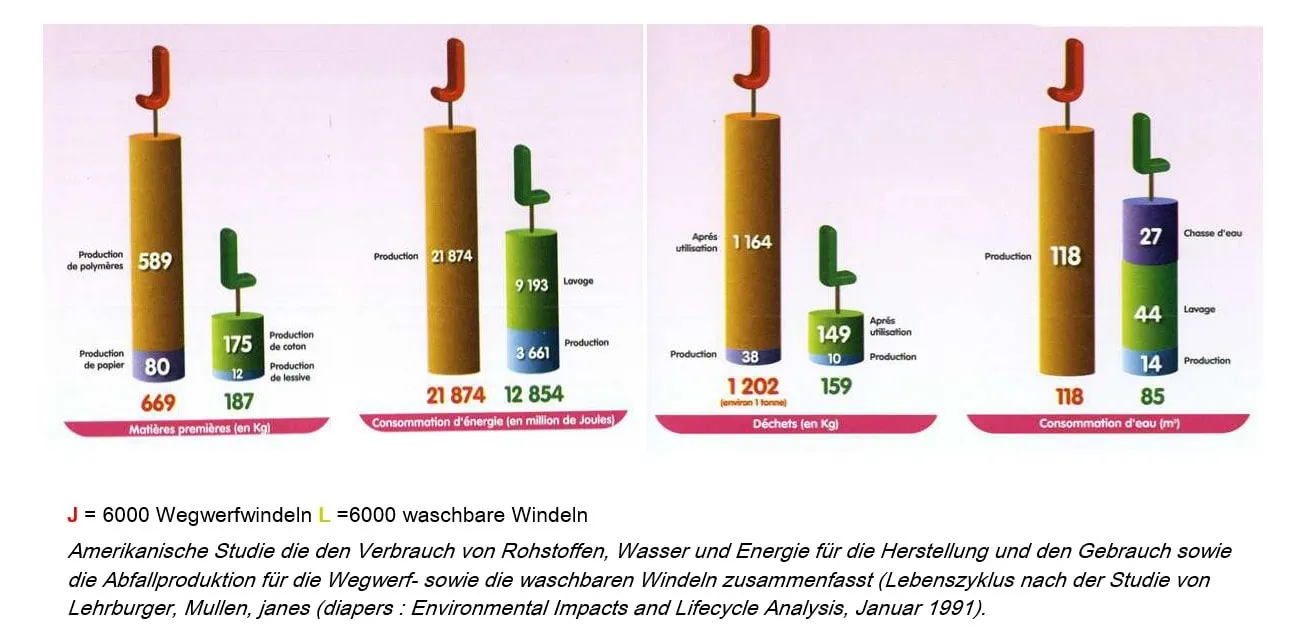 2. Washable diapers, from our grandmother's cloth to the diapers now ?
As soon as we talk about cloth diapers, it reminds us of the simple cloth diapers made up of a big fabric rectangle. Mom would take care of grooming baby and would wash the diapers as well. However, the latest generation of cloth diapers has evolved well in terms of both composition and absorption capacity.
Cloth diapers are simply diapers that can be kept and reused. They are made up of an outer waterproof protective panty and an inner part made of an absorbent fabric : either organic cotton, bamboo viscose, microfibre, organic hemp, etc.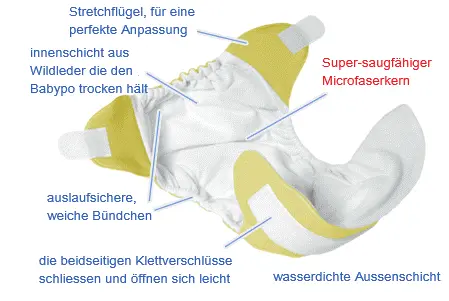 The actors involved in the production of these diapers compete in ingenuity in terms of design, patterns, and the clasp system used. While some use Velcro, others use a press-stud system that is positioned along the outside of the diaper and that adapts more easily to the baby's size. Different models are on the market, amongst which we can mention: the all-in-one diaper (TE1) and the pocket diaper, the all-in-two diapers (TE2 : diaper with removable inserts) or just the old-fashioned diaper.
3. Cleaning and maintenance
The freshly collected diaper should be scraped off into the toilet. It can then be stored with the other dirty diapers (e. g. in a bin or a big diaper bag) until the next load of laundry. Make sure to rinse the diapers thoroughly (either with a shower jet or in the machine, on the rinse cycle) before starting the washing process. You can wash the diapers on their own or mixed with the rest of your laundry at 60° with an ecological detergent.
4. What do the Zero Wasters think about these diapers ?
Juliana, mother of 2 boys, had a very positive experience with cloth diapers. She recommends that all new parents at least try this method with their baby to see if it suits them or not. Juliana says « (she) understands that with our current rhythm of life, it may not suit everyone » but it's good to at least try. In addition to the ecological aspect, there are significant savings to be made, especially from the second child onwards, she adds.
She also recommends :
Combining cloth diapers with elimination communication, « it worked great with my first son. At 6 months old he was using the potty and only used the reusable diapers to pee, an absolute delight! »
Not systematically investing a lot of money in equipment immediately, especially if you are not sure you want to commit 100%. You can buy cloth diapers second-hand as well, « on Anibis I found a kit, virtually unused, for 100 CHF. I also bought diapers that had already been worn and they work perfectly well ».
Testing the diapers before buying them. Some stores rent "test kits" that allow you to test different models/brands before buying. You can also borrow diapers from a friend whose children are older (this is what she did at the beginning).
Participating in free information sessions on cloth diapers offered by some stores such as "Mère et Terre" in Chavornay.
Using washable protective veils « a piece of microfliber cloth works well ». Especially since disposable protective veils, contrary to popular beliefs, should not be flushed down the toilet (even 100% biodegradable, they do not dissolve in water and get stuck in the screens at the entrance of the wastewater treatment plants). If you use these paper veils, you have to throw them away, which makes a small amount of waste (certainly, always better than disposable diapers).
Aline, mother of a 6-month-old daughter, says her experience with cloth diapers was very successful. According to her, the diapers (from the Bumgenius brand) are comfortable and do not pose any skin problems (except for a little redness in the first few weeks, when baby's skin is still fragile).
She also added that she experienced very few leaks; a very important point. For her daughter, she chose evolutionary diapers with press-studs, with inserts that can be slipped inside. She bought them second hand on Anibis for a total of about 300 CHF- for 30 diapers!
When buying cloth diapers, she made the following recommendations :
When buying second-hand diapers, be wary of completely white diapers. They may have been bleached and if so, they will be less waterproof. Used diapers are usually stained (even if they have been cleaned and disinfected).
It is preferable to avoid velcro diapers, as this material is more difficult to wash, especially if you use a washing service where several babies' diapers are washed together!
Avoid all-in-one diapers with inserts completely sewn onto the diaper, as they take a long time to dry. Those with inserts that can be taken out, or those with inserts sewn only on one side, dry much faster. Otherwise, all the layers of fabric stay together and the diaper dries very slowly.
As far as washing is concerned, Aline uses an eco diaper service, éco-couches.ch (70.-/month). This service comes to your home twice a week to collect the bag of dirty diapers and drops off clean diapers. This allows you to use cloth diapers even when you don't have access to a laundry room very regularly. Moreover, with this service, using cloth diapers no longer requires any additional work. It's even less work, as there's no longer the need to go buy diapers! And in terms of budget, the price of the laundry service is no more expensive than the purchase of disposable diapers! It is also possible to rent the diapers from Eco-couches for 30 extra francs per month. After testing their rental diapers when she didn't have hers yet, Aline found them to be really comfortable, efficient and pretty as well! Eco-couches distributes in the Lausanne, Geneva and coastal regions and has a very friendly personal service.
Bruna, mother of two daughters, started using cloth diapers 3 years ago, when her first daughter was born. For her, « the world of cloth diapers is a little scary at first, with all those unknown words: Te2, insert, booster, microfiber … ». So, after reading several blogs and receiving advice from Facebook group speakers on cloth diapers, she decided to purchase the best bottoms diapers, with a removable insert and equipped with press-studs. « My husband and I were immediately impressed by their designs (babies' bottoms are much more fun and unique thanks to them) and also by the fact that we could keep using them until our daughter got completely potty trained. »
Her first experience with cloth diapers was more than positive. Firstly, her daughter's bottom got irritated only very rarely. On top of that, at 18 months she was completely potty trained, and, to Bruna's husband's delight, this method saved the couple 1800 CHF. When their second daughter was born, the couple wanted to repeat this positive experience. This time, they invested in "newborn" diapers because their second daughter had arrived 3 weeks prematurely, making the evolutionary diapers they had chosen too large. « For this investment, we preferred to buy second hand (used diapers Facebook group), which allowed us to acquire a variety of diaper models. The day we left the maternity ward, we were very proud to be able to put our second baby in her first cloth diaper. « This was a big hit in the maternity ward because the diaper was so colorful! » she adds.
Strengthened by this happy experience, Bruna answers some of the questions she is frequently asked:
Does poo end up in the washing machine? Answer – No, it doesn't. The poo is flushed down the toilet before the diapers are put in a storage bag until the next load of laundry.
Do you experience more leaks than with disposables? Answer – No, not if  we change baby every 3 hours during the day. In the evening we can use additional inserts to increase the diaper's absorption capacity. Our first daughter quickly slept through 12-hour nights and we didn't have many accidents. In addition, thanks to the double gussets system (elastic bands located on the thighs) the diapers are equipped with, leakage risks are reduced.
Do you wash your clothes with diapers? Answer – Yes! We wash our clothes with the diapers. We do a rinse and spin cycle with the diapers only and then we complete the machine with our clothes.
How long does it take for the diapers to dry? Answer – It depends on the model. We have TE2s (diapers made up of two separate parts) that dry overnight in our bathroom.
How many loads of laundry do you have to do? Answer – We do a load every 2 days. This is very dependent on the amount of diapers we own. If we had more, we could do laundry every three days.
What to you do about your diapers while you're on vacation? Answer – Well, we take our diapers, along with our detergent, which contains only a very small amount of glycerin, so as not to make the absorbant part of our diapers waterproof. Our detergent is ecological and purchased in bulk.
5. Recommandations
Do not buy large amounts of the same diaper model. You don't know ahead of time how your baby will adapt to the diapers and sometimes they won't fit the baby's morphology. To start, rent or borrow diapers from friends.
Newborn diapers (2-5kg) are really well suited for the first few weeks of life.
The double gussets on certain diapers reduce the possibility of leaks. Leaks may occur if the diapers are not tight enough or if the absorbent part has some build up on it.
Removing build up every 3 months or when you see the water beading on the absorbent part is recommended.
A soap-free rinsing and spinning before washing the diapers helps to avoid possible odors.
Use a detergent with little glycerin to avoid making the absorbent parts waterproof.
When children are getting potty trained, you can use special panties with small absorbent inserts.
There are specialized panties that can hold a poo for when in the pool.
There are several Facebook groups available to you. There is one where you can find second-hand cloth diapers in Switzerland and another where you can ask all your questions about cloth diapers.
Conclusion
More than a consumption choice, the use of cloth diapers represents the adoption of a lifestyle habit in your baby's eco-responsible development cycle. « The use of cloth diapers only posses an organizational issue. As soon as you are equipped, you no longer see the difference with using disposables, because they are just as easy and practical to use » testifies Bruna.
There are many benefits to using cloth diapers, including improved health for you baby, a lowered ecological footprint and long-term money savings. However, it remains true that some aspects, such as the bulk they add to the child's body or the drying time (TE1 layers), may warrant some consideration.
« Tested and adopted », do not hesitate to test the different models of cloth diapers in order to refine your choice of behavior for your Zero Waste Baby.

Kader Sylla – Marketing Coordinator